Any of you readers live in or close to Rochester, Kent? …….. if so you are in for a real treat Desdemona is popping up at The Rochester Flea in Rochester High Street this Saturday (29th)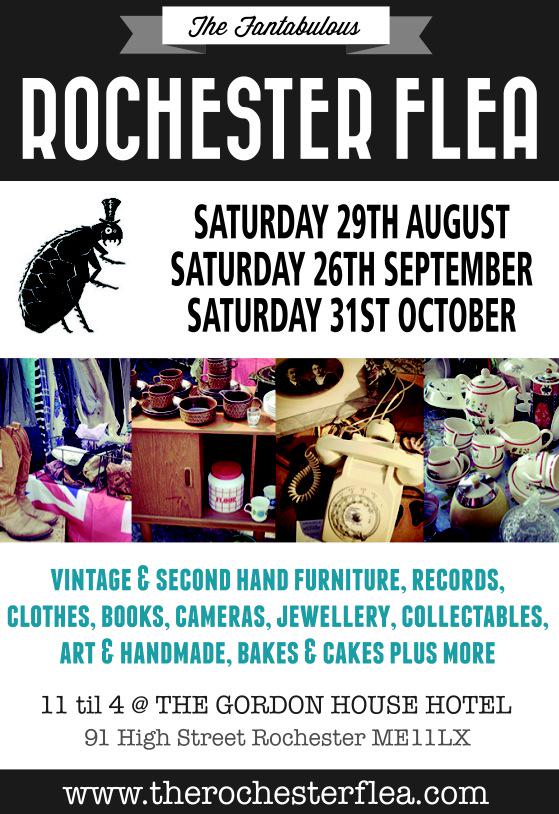 Desdemona will have clothing, bags, jewellery, sunglasses etc up for sale, so come and have a browse 🙂
If you are not local then you can always shop online (all links are on my website, or feel free to contact me if you are after something in particular)
This week, I was honored to be picked as their featured seller on their blog this month, here's my interview…..
**********************************************************
By tracyaffleck, Aug 23 2015 07:40PM
Hi Hayley! Really looking forward to seeing you at the Rochester Flea on 29th August. How long have you been selling vintage and how did you start?
I've been selling vintage and quality fashion items for around 15 years now. I started off working in an underwear boutique in Bluewater and the owner always mentioned what I was wearing and customers would ask me where I got my clothes from. She gave me a budget and I would go out and buy items and customize garments for her to sell in her shop alongside the underwear and those items flew out the shop, so I started setting up my own stalls, beginning at Greenwich market in London, and it's all gone from there.
I had my own boutique that some of you may remember, Up the Junction along the lower Rochester road, and that's where I started off my styling side of things and sourcing and supplying clothing and accessories to costume designers and wardrobe departments for TV and stage, which I still do now.
What do you love about vintage clothing?
Well, I love the romance of where that piece has been, who wore it before you, what it's seen and all that hippy dippy stuff!
But more seriously, it's the design, the cut and the quality of clothing then, time and care was taken over making a garment, it wasn't knocked up in some sweat shop in China, which brings me to the ethical side of it… for starters wearing vintage or second hand clothing is recycling so it's good for the environment, it cuts down on the energy and pollution made by producing and transporting disposable clothing, and less goes to landfill.
Desert Island Discs?
I love this question!! If Carlsberg asked questions this probably would be one of them 😉  I'm a castaway!!
I have to start with a Beatles track as they are my all time favourite (BIG John Lennon fan over here!)It was my mum that got me into The Beatles when I was a kid (as well as Rod Stewart, T-Rex and Reggae!)
No.1 is

The Beatles

–

Come Together.

No. 2

Eddie Cochran

–

Twenty Flight Rock

. It's in a great film The Girl Can't Help It with Jayne Mansfield and it's a great tune, nuff said!
No. 3 a bit of Doo Wop now that sounds like it could of fell off the Grease movie soundtrack….

Del Vikings

–

Whispering Bells

.
I was a Indie kid in my teens when I started wearing vintage clothing, 70s flares, some kitsch skinny rib t shirt and my Adidas Sambas, thinking one day I might be the first female member of Oasis!! Oasis singles where great because you'd get 2 or 3 B sides that where just as good as the A side so you got a lot a bang for your buck so…
No.4 is

Talk Tonight

–

Oasis (B side on Some Might Say)

No.5 Another track from the 90s Indie days ..

The Stone Roses

–

Waterfall

. brilliant song.
No. 6 Love this song….

Ramblin' Man

by

The Allman Brothers Band

No. 7

Free Bird

–

Lynyrd Skynyd.

I have my Dad to thank for my love of 70s rock music, he was a drummer in a band in the 70s, they were called Mind Cage! Hehe!
No. 8 is

Bo Diddle

y –

Who Do You Love

, just because !
And then I know you only get 8 but I NEED 9! This last track is not only my teams song (Liverpool FC) but it's the lyric, simple but always pick me up when I need it, and its fitting with the lost of Cilla Black this month…
No. 9

Gerry & The Pacemakers

– You'll Never Walk Alone
Artists that inspire you?
These are all artists too me in one way or another..   Salvador Dali, Andy Warhol, Ronnie Wood, Keith Richards, John Lennon, Barbara Hulanicki, Alexander McQueen, Vivienne Westwood, Rachel Zoe, Iris Apfel, Karl Lagerfeld, Kate Moss, Edith Head, Elsa Schiaparelli, Elizabeth Taylor and Brigitte Bardot.
What was the last exhibition you attended?
Last week I visited the Imperial War Museum for their Fashion On The Ration exhibition, The exhibition was a little smaller than expected, but was really good if you are into fashion or 40's fashion.
It includes uniforms, utility clothing, "make do and mend" garments, wedding outfits etc.
My favourite piece was definitely the "Siren Suit" a kind of (more stylish) onesie that was designed to wear over nightwear to maintain a ladies modesty while traveling to and seeking shelter during night time air raids.
(Read my blog post about the exhibition HERE)
Favourite thing about Rochester?
The history, the boutiques, the coffee shops, the cobblestones
I'm not much of a meat eater and I'm not keen on sushi at all, you can't go wrong with an Italian…. I do love a mean pizza!
Pink or Red?
Definitely red! My hair gives that away, I've never been that much of a pinky girly girl, I even tried to dye my dolls hair red with my mums' red food colouring when I was a kid!
As of this spring I am also a trained hairdresser, so I'll stick to proper hair colourants from now on, Promise! I'll have a mannequin head with a victory rolls hair style on display at the Rochester Flea so if anyone's in need of some vintage hair styling for events then come say Hi!
Favourite ever vintage purchase?
Well that has to be the Austin Mini I had, 1966, Red with a union flag on the roof, next to no mileage, he'd been sat in a garage for years, he was a stud! But I had to let him go, I didn't trust my driving !!
Where can we find you?
www.desdemonastyle.wordpress.com
Twitter: @styledesdemona
Instagram: @desdemonastyle
Facebook: Desdemona Style & Vintage
All these links are on my website www.desdemonastyle.moonfruit.com
*********************************************************
Thanks for reading 🙂 See you there!!